Plan A Visit
SERVICES @ FRBC are Sunday @ 10:45am and Wednesday at 6:30pm.

FRBC is an easy drive, just north of LaGrange, GA. From downtown you'll find FRBC on HWY 27 North just 3 miles north of the center of town and 1 mile north of Walmart.
From the Interstate: Take Exit 18 South (Hwy 109) to Davis Rd. Turn RIGHT and go 2.5 miles to HWY 27. Turn RIGHT and FRBC is just up the road.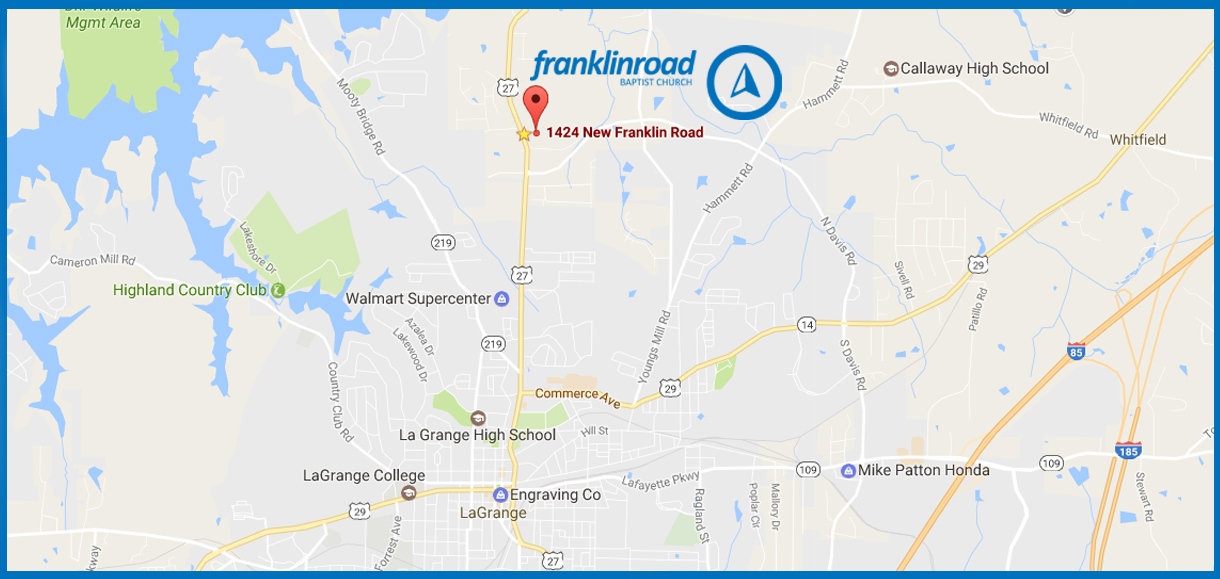 ---
No matter who you are, you're welcome at FRBC!
At Franklin Road, you'll be welcomed into a friendly environment by loving people who are excited to see you. Just like snowflakes and leaves, no two people are exactly alike. All of us are uniquely made by God with a purpose to fulfill. At FRBC, we know that God loves YOU and we will love YOU, too! If you're ready to experience a church that is as unique as you, come give us a try! All you have to do is come as you are and find out more for yourself!
At a weekend service you can expect:
Each service to last just over an hour in a casual and engaging atmosphere.
Challenging and engaging messages from Pastor Andy based on the Bible with practical application.
Worship music focused on glorifying God in several styles.
Fun and biblical teaching for your kids in Children's church.
Then, take your next step:
Sunday School or a Life Group will give you a place to belong. It's the place where you can grow, laugh, and serve with people just like you.
God has given you gifts and talents to impact the church and influence others in your community and the world.
Get equipped with the tools to develop as a devoted follower of Christ. As an individual, family, or part of a small groups.
Your family will enjoy:
Your babies and toddlers will be loved, taught and cared for by some of the sweetest and caring people around.
Your children will enjoy Route 210 Children's Ministry. Each weekend, the R210 kids learn the truth about who God is and who they are through age-appropriate lessons, small groups, and trusted adult leadership.
Your teenager will enjoy the Intersection 220 Student Ministry activities at each service. A service just for them is held on Wednesday evenings at 6:30pm in the Youth Building.