Join us in praying for God to heal Alyssa's brain tumor.
Alyssa was recently diagnosed with a brain tumor and will begin several months of chemotherapy this week. Her loving personality, wonderful attitude and constant smile inspires us all to fight with her in prayer.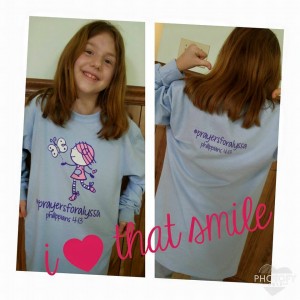 If you would like order a special shirt to invite other's to pray, please fill out the form below.
Prayers for Alyssa T-Shirt Order Form
Please fill out this form completely with all shirts and sizes you would like to support Alyssa's fight. Thanks!
[contact-form to='andy@frbclagrange.org' subject='#prayersforalyssa t-shirt'][contact-field label='Name' type='name' required='1'/][contact-field label='Email' type='email' required='1'/][contact-field label='City' type='text' required='1'/][contact-field label='Please list Shirt Size %26amp; Type for each shirt you would llike to order.' type='textarea' required='1'/][contact-field label='Note to Alyssa:' type='textarea'/][/contact-form]